Union, MO- December 6, 2019
Sophomore forward, Arman Kovac, was named NJCAA Men's DI Soccer 3rd Team All-American for his effort in his second season at East Central College. He is the 10th NJCAA All-American in ECC Soccer history. The news was announced at the conclusion of the 2019 campaign by the NJCAA National Office.  https://www.njcaa.org/sports/msoc/2019-20/div1/all-americans/index
A two-year starter for the Falcons, Kovac, had a productive offensive output scoring 15 goals and collecting 5 assists on the season. The front runner for the Falcons hails from Lindbergh High School in St. Louis, MO, where he had a prolific goal scoring career in high school.
The Falcons faced top level talent all season with games coming down to the last minutes of each game. The only games the Falcons lost on the season were to NJCAA Top 25 teams. Kovac had four game winners on the season as well. He helped pace East Central College to the their 19th .500 or better season in the past 20 years.
Kovac was named 1st Team All-Region and 1st Team All-Conference for his efforts in 2019. He was the leading goal scorer in the Missouri Community College Athletic Conference and Region 16. His single season performance ties him at #11 all-time in single season scoring for the Falcons. Totaling 23 goals for a career places Kovac ranks #6 all-time on the ECC career scoring list. The list in front of him includes two NJCAA All-Americans in Wesley Louissaint (NJCAA 2nd Team & NSCAA 1st Team All-American 2003) and Jacob Moore (NJCAA 2nd Team All-American 2016) who both went on to play NCAA DI soccer.
Along with honors from his on the field performance, Kovac was named a NJCAA Academic 1st Team All-American during his freshman year and will most likely receive the honor again at the conclusion of his sophomore year.
Kovac plans to transfer to the University of Missouri St. Louis and continue his playing intercollegiate soccer playing career and major in business.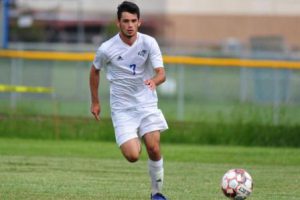 Arman Kovac, NJCAA 3rd Team All-American 2019