It's official, Megan Micke has made her commitment to play softball her junior year with Lyon College. The sophomore shortstop led the Falcons in batting her freshman year and hopes her East Central College success follows her as she trades in her Falcon uniform to become a Scot. As one of ECC's All-Region 16 and All-MCCAC selections last year, she looks to compete to start next year in a line up with players on the roster from softball talent rich states of Arizona, California and Texas.
The Lyon College Softball team has started the 2018 season with an 8-0 record and will be playing most of their away conference games in Missouri. Lyon's foes in the NAIA American Midwest Conference lie close to home for Micke, as she will face Missouri Baptist University, St. Louis College of Pharmacy, Harris-Stowe State University, William Woods University, Columbia College, Lindenwood-Belleville, and Stephens College. So Megan's fan club, which includes family and friends won't have to travel far to see her next year.
Micke racked up some impressive numbers her freshman year and hopes for her sophomore year are even better. Last season, Micke recorded 66 hits, 41 RBI, 12 doubles, 9 home runs and 19 stolen bases. Micke's nine home runs last season rank her seventh for a single season. She will be aiming to add to her totals this season to move her up in the ranks for career dingers. Also, the 19 bag swipes put her fifth for a single season right behind her two-year teammate Jensen Crenshaw.
Micke was cited as saying, "Even though it is a little further from home, I liked Lyon College's atmosphere and felt like it was a destination where I would feel comfortable finishing my degree and softball playing career."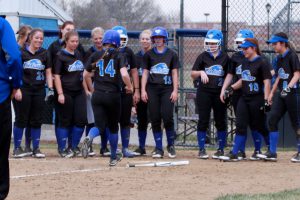 Megan Micke's Teammates Congratulate Her Round Trip in 2017 Home Opener