The East Central College Men's Soccer Falcons (2-0) found the net a dozen times in a 12-1 win over the Scott County Community College Eagles in Bettendorf, Iowa. A big performance had multiple goal scorers in the match with Cassio da Silva    leading the way with 3 goals for the hat trick. Calogera Melia, Juan Wagner, Jacob Wipke, Parker Murphy, Ross Watson, David Ortega and Michael Holliday all added a goal each
James Conway was in the nets for ECC for entire match.
As the Falcons use the first matches of the season to find a starting line-up there are a number of players making their case for playing time.
Each start of the season is when the Falcons find their wings. This year the Falcons came flying out of the gate with 18 goals in their first two games. Wins over Missouri Baptist University JV and Scott Community College have the Falcons tuning up for nationally ranked opponents
A quick turn around has ECC facing the North Arkansas College Pioneers at home on Sunday, August 20 for the first home match of the season.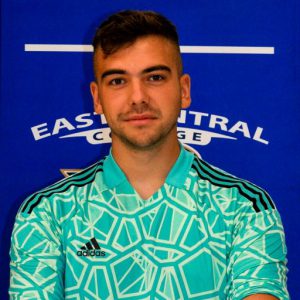 James Conway, Sophomore Goalkeeper