The East Central College Falcons (9-6-2) were able to get back into the win column with a 3-0 victory over the Missouri Baptist University Spartan Reserve squad. The Falcons were tied at the half 0-0 and ECC looked good, but couldn't find the net.
Jules Denommee took control of the left flank in the second half making runs from the back and attacking the opposition's midfielders and defenders with his ability on the ball. Denommee flicked a ball over a close defender's foot to draw a penalty kick in the 62nd minute. Denommee took his own PK shot to put the Falcons up 1-0. In the 67th minute, Dujon Brown made a run into the box and dropped in a pass to a scrambling Jacob Wipke who netted his 6th goal on the season.
Brown wasn't wasting time as he got right back into the box a minute after assisting the last goal and scored in the 68th minute to seal the victory for the Falcons 3-0. Kaden Marsh recorded the shutout with a good defense of Martin Farkas, Micheal Holliday, Jules Denommee and Matt Harp in front of him. Maurcio Suarez had a good match in the middle of the park as he controlled the possession and tempo of the game for ECC.
ECC will face State Fair CC on Saturday, October 21 at 2:00PM in Union, MO for the first round of the NJCAA Region 16 DII Tournament. The Falcons will be tested by the Roadrunners as both teams don't want to end their season in the first round.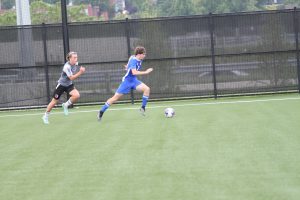 Jules Denommee