The East Central College Falcons finished the season 10-5-1 and had individual players recognized for their accomplishments. After the first post season game against St. Charles, sophomores Jacob Moore (Ashland, Missouri) and Umoh Ufot (London, England) both collected 17 goals and 9 assists each and both were named NJCAA Region 16 1st Team All-Region. The dynamic attacking duo were tied for a #12 ranking in the scoring goals and points. Moore added an assist in the Region 16 semifinal game to gain one more point, but the scoring totals from the two rank as the best tandem scoring season in ECC history. There have been higher scoring outputs from individuals, but never have the Falcons had to 17 goal scorers in the same season.
Moore finished as the #3 all-time career goal scorer with 32 in his two years at East Central and Ufot was tied for #4 with his total of 25 in two years. Ufot had a shortened freshman season due to a knee injury and would have possibly added more to his totals. The two are tied for #6 single all time in goals scored for a single season with 17. Moore finished his career with 24 total assists placing him tied for #1 in career assists in ECC history.
Another all-region selection, was freshman Kai Bucciero (London, England), named to the 2nd team. Bucciero was a lock down left defender, who started and played in every game this fall for the Falcons. A defensive effort had ECC collecting three shutouts and was led in part by Bucciero.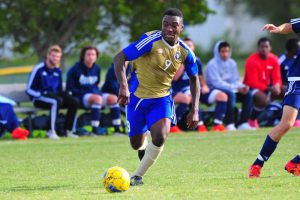 Umoh Ufot, Photo by Bill Battle, Washington Missourian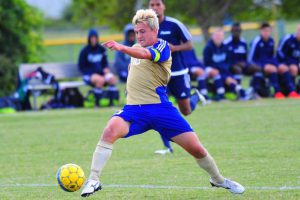 Jacob Moore, Photo by Bill Battle, Washington Missourian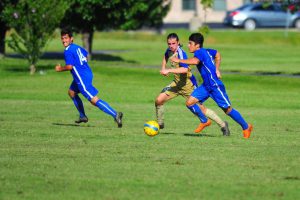 Kai Bucciero, Photo by Bill Battle, Washington Missourian