A season filled with extreme temperatures and multiple injuries turned out well in the end for the (7-5-4) ECC Falcons. A big push towards the end of the season solidified the team's confidence on the pitch. ECC went 3-0-2 in the last five games of the season to secure a winning record for 2019.
The top performers on the season for the Falcons were awarded with post-season honors in the region and in the conference.
Two-year starter Arman Kovac, a sophomore from Lindbergh High School in St. Louis, MO, took home honors with his productive offensive output scoring 15 goals and having 5 assists on the season. His single season performance ties him at #11 all-time in single season scoring for the Falcons. Totaling 23 goals for a career places Kovac #6 all-time on the ECC career scoring list.
Kovac was named 1st Team All-Region and 1st Team All-Conference for his efforts on the 2019 campaign as he was the leading goal scorer in the conference and the region. He had four game winners on the season as well.
Leonard Sowa, a sophomore team captain from Berlin, Germany, was named 1st Team All-Region and 2nd Team All-Conference for his leadership and play on the pitch in 2019. Sowa ended the season with 6 goals and 8 assists. A career total of 17 assists places Sowa at #6 all-time in career assists in ECC soccer history.
The silent leader on the field, freshman Guy Baskerville from London, England was honored for his curtain of steel style of defense. He was one of the toughest defenders in the region. He scored two goals coming up on free kicks, but was best at holding out opposing attackers all year. He was named 2nd Team All-Conference and 2nd Team All-Region.
A high intensity player, Blake Little came to East Central College via a transfer from Southern Illinois University Edwardsville where he redshirted his freshman year. Little was a hard working freshman midfielder with a great technical ability. He was the team's set-up man and recorded 8 assists on the season and was named 2nd Team All-Region.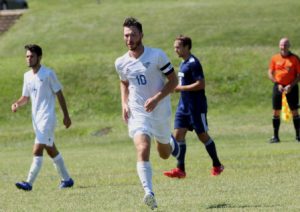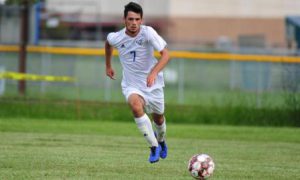 Leonard Sowa, Sophomore                                      Arman Kovac, Sophomore
1st Team All-Region &                                              1st Team All-Region &
2nd Team All-Conference                                        1st Team All-Conference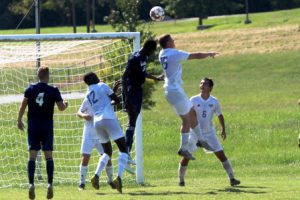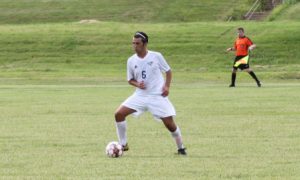 Guy Baskerville, Freshman                                     Blake Little, Freshman
2nd Team All-Region &                                           2nd Team All-Region
2nd Team All-Conference