The ECC Falcons (11-13) split a double header with the State Fair Community College Roadrunners at home. The scoreline had ECC dropping the first game 16-7 and then coming back in the second with 7 scoreless innings winning 2-0.
Alexa Smalling hit well in the first game including a three run homer in the 4th inning to draw the game within reach at 10-7. Smalling also had two more singles in the game leading the Falcons going 3 for 4 on the day.
The second game on the slate went the way of the Falcons with small ball manufactured runs bringing home two runs to make the difference in a 2-0 game. Three singles in a row from Mya Hillermann, Alexa Smalling and Hannah Jarvis driving in the first run in the second inning. Hillermann then drove in the insurance run with a sacrifice bunt.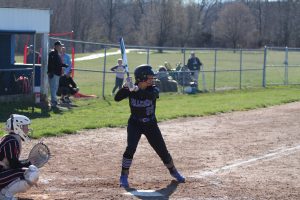 Alexa Smalling at Plate