The ECC Softball Falcons moved to a 4-5 record after a split with the Shawnee Community College Saints. The Falcons dropped the first game of the double header 7-2, before rallying back to win the second game 8-0.
On a chilly afternoon at East Central College, the Falcons seemed to take a while to heat up, falling behind early to a Shawnee team ready to bat from the get-go. Despite dropping game 1, there were some positives for the Falcons, with Taylor Hanger finding her bat, with an RBI hit in the 2nd inning, as well as sending one over the centerfield fence for a solo home run in the bottom of the 7th.
The Falcons' bats certainly warmed up in game two, as they recorded hits early in the 1st  inning from Nicole Truitt and Aubree Eaton, followed up by a 2 RBI double from Madison Sander to put ECC on the scoreboard early. Hanger pitching from the circle was preventing the Saints batters from finding much joy in this game, recording numerous strikeouts in the process. Sander was feeling confident at-bat, and it showed when she hit a dinger. The Falcons were playing confidently now and recorded more hits through Hanger, Truitt, and Eaton. Sander still had more in her locker though, signing off in style at the bottom of the 4th, smashing another ball out of the park, and taking the Falcons to an 8-0 victory after 4. 5 innings.
By Joe McInnes, ECC Student Athlete Worker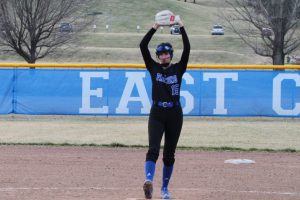 Taylor Hanger Pitching for the Falcons