At the conclusion of the NJCAA Region 16 DII volleyball tournament, four Falcons received honors as voted on by the coaches. Mariah Vahlkamp, Kaley Roper and Grace Struttmann were named 1st Team All-Region and Kilisitina Lutui was named 2nd Team All-Region for their efforts on the court this season. On the All-Conference team Kaley Roper was named 1st Team All-Conference and Allison Tonoili was named 2nd Team All-Conference.
Two-year starter Mariah Vahlkamp (Carlyle, IL) was a two-way player adding an immediate impact to both the offense and defense. She ended her two years as a Falcon with total of 915 digs ranking her #11 all-time in digs for the Falcons. Along with her digs she added 300 plus kills to make her one of the most balanced players for the Falcons.
Hailing from Bloomfield, MO with her twin sister and teammate Nicole, Kaley Roper has made a tremendous impact on the ECC Volleyball program. Roper ranked in the top 30 in the NJCAA for total digs and digs per set all season.  For East Central College, she ranks #3 all-time in the total career digs category with 1391. Her freshman season saw her record a single season 797 digs for fourth all-time in a single season.
Freshman Grace Struttmann, from St. Francis Borgia High School was one of the team leaders in kills with 211 her freshman season. She was force at the net from a swinging and blocking presence throughout the season. Hopes for her sophomore season are high as she looks to continue her hard work in the offseason improving her game.
Another freshman receiving honors was Kilisitina Lutui coming a to ECC from South Jordan, Utah. As she started her season, she had to get used to the rotation and the college game. She improved and got better under Coach Mathes-Peters' system. She became a force in the middle with her block and powerful swing.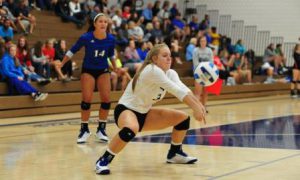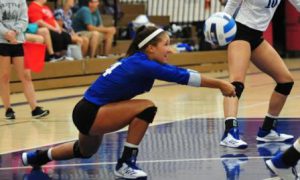 Mariah Vahlkamp, So. -1st Team All-Region                       Kaley Roper, So. -1st Team All-Region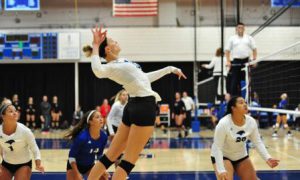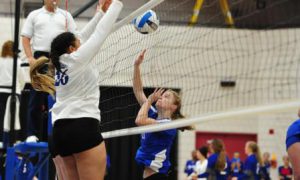 Grace Struttmann, Fr. – 1st Team All-Region                     Kilisitina Lutui- Fr. 2nd Team All-Region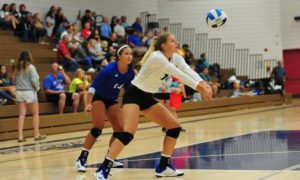 Allison Tonoili- 2nd Team All-Conference