The East Central College Falcons (13-6) beat the Metropolitan Community College Kansas City Wolves in three straight sets to capture the Region 16 DII Championship. Each set was tightly contested as the Falcons clawed deep into each game winning 26-24, 25-22, 25-23.
ECC was trailing 5-0 at the beginning of the third set and made a 10-2 run to lead the Wolves 10-7 midway in the third set. Then MCCKC keep the lead most of the way until the last points of the set. The Falcons got a big serve from Olivia Spanley that hit the net tape and rolled over in favor of ECC to break a 23 -23 tie. The Falcons with a 24-23 advantage were led by Leinata Leakehe who slammed home the winning kill to end the match and collect the hardware!
The stat line from the championship match had some impressive numbers even though only three sets were played. Leinata Leakehe paced the team with 13 kills and also recorded 16 digs. On the defensive side, Maranntha Hollimann and Trinity Clark both recorded 20 digs a piece and Hollimann had 38 assists in the setter position.  Another key performance on defense came from Alyce Koch as she had four big blocks in the match.
Sophomore Allison Tonioli hit her mark as well registering 12 kills in the match.  Good all-around performances came from the entire team. Also impressive from her front row play was Grace Struttmann who contributed to the offensive side by collecting 9 kills of her own.
The Falcons will face one of three teams to be determined from Region 11 in Iowa next Saturday with a chance to earn a birth the the 2020-21 NJCAA National Tournament also being held in Iowa.  ECC awaits the runner-up of Region 11 which includes Iowa Central  CC, North Iowa Area CC and Hawkeye CC finishing up their region tournament.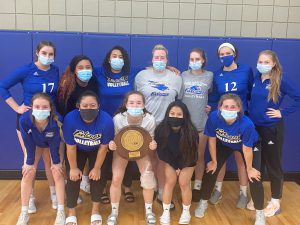 EAST CENTRAL COLLEGE VOLLEYBALL
2020-21 NJCAA REGION 16 DII VOLLEYBALL CHAMPIONS